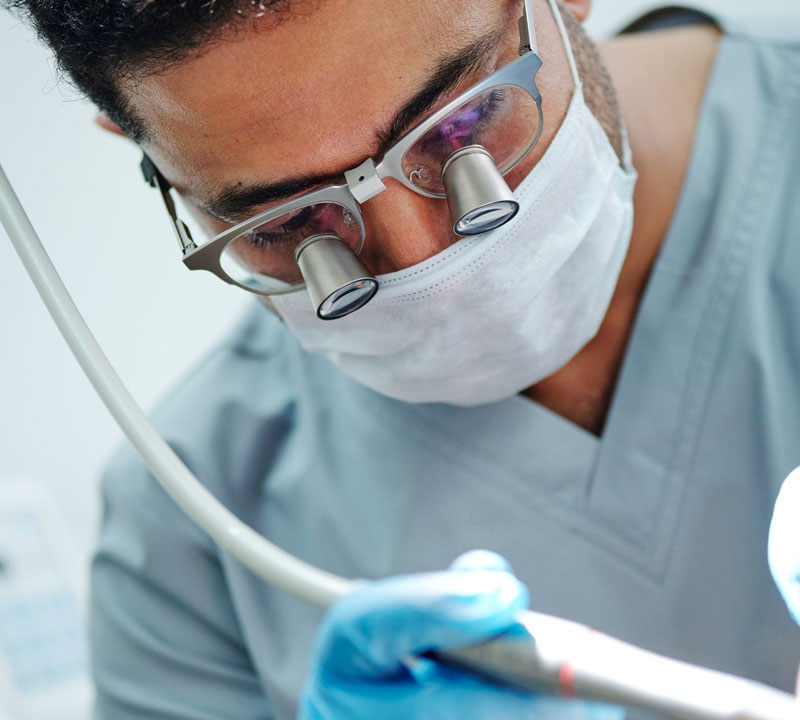 Committed to the Dental Excellence
Sri Sanjeevini Multispecialty Dental Clinic is situated in the east of Vijayawada city; here we treat all aspects of cosmetic and restorative dentistry in a warm and relaxing spa-like environment. The practice is equipped with the latest dental facilities and technology to provide you with world class dental care and make your visit as comfortable as possible. Our cosmetic dentists headed by Dr Manne Sanjay Dutt are complimented by highly qualified master technicians, dental nurses and hygienists. Our team's informal approach will definitely help to put you at ease. Our dental clinic consists of very good dentist in Vijayawada.
Sri Sanjeevini Multispecialty Dental Clinic trusted for years for our premier services, quality care and highly affordable treatment. The name has and continues to bring smiles to a number of patients within and around Vijayawada. Our prime areas of expertise include cosmetic dentistry, restorative dentistry and general dentistry. Dr. Sanjay and his team of experts provide the best ever dental care using the latest technology. Be it simple tooth whitening, or dentures, or the latest in smile enhancing procedures, or porcelain restorations and veneers, or implant dentistry, you can look to us with confidence.
We are a dental practice devoted to restoring and enhancing the natural beauty of your smile using conservative, state-of-the-art procedures that will result in beautiful, long lasting smiles! A standard of excellence in personalized dental care enables us to provide the quality dental services our patients deserve. Should a dental emergency occur, we make every effort to see and care for you as soon as possible. When you schedule an appointment, we make sure that your concerns get the attention they deserve from our professional and courteous staff.
 Infection control in our office is also very important to us. To protect our patients and ourselves, we strictly maintain sterilization and cross contamination processes using standards recommended. We pride ourselves in providing the care you need to keep your smile healthy.
Our Work Is Heavily Shaped by Our Core Values
We aim at understanding and caring for patients and colleague's needs and wants, by attentive listening and putting ourselves in people's shoes.
We want to keep adapting to different situations, with a desire to learn and striving to be better. Learning new trends and technologies in the industry.
Respect everyone we meet and treat them like we want to be treated. Whether it is a colleague or a patient, understanding and respect matter.
We are the experts in our field. Therefore, it is important to have the courage to do what is right knowing that it is for the better good of the person ahead.
Good dental services with fully qualified doctors..Took implant treatment for lost teeth at Sri Sanjeevini. Happy with the way treatment was given. Follow up after treatment and care to be taken were replanted well.
I love the way they received and treatment provided. Doctor Sanjay dutt is so cool n very polite person. He is soo kind n very helpful. I'm not trying to boast here but I mean it. My father comes here all the way from nandigama to vijayawada which is 55kms away as he also likes his treatment. And more over the cost of the treatment is very less compared to other dental clinics. 2 weeks ago I visited this clinic with my entire family to have the treatment. Thanks to the entire team n I wish them all the best in their future plans.
Dr Sanjay Dutt is giving Excellent on time tele medicine for existing patients and treatment with at most personal care. His Hospital is very clean and tidy every time the patient visits. No unwanted charges and very reasonable fee I recommend everyone to pay a visit to dr Sanjay Dutt for their dental problems
After getting tired of many other dentists we visited this clinic looking at reviews in Google. And we are not disappointed at all. He is very patient enough to listen clients condition and explains with great care and detail. One of the nicest dentists that I ever met. Not commercial at all. I would recommend him with the best of my confidence and this is a genuine feeling.
My father was treated with implants for missing teeth and we are very much satisfied with the outcome, also Dr Sanjay garu took all necessary precautions and care to treat my father as he is cardiac patient. We are very much impressed with clinic ambience and convenient appointments scheduled for us.
My mother was worried about her condition of using artificial teeth , but at Sri Sanjeevini dental she got implant treatment for whole mouth in a comfortable way. Now she was no more worried about her teeth and she was having food much better than her natural teeth. Very thankful for the doctors and staff for wonderful treatment and care for my mother during and after the treament.
BOOK AN APPOINTMENT TODAY